Tips for trips
South Bohemia will enchant you with its peaceful atmosphere, medieval towns and fairytale castles. Discover a world where everything flows at an undisturbed pace. Choose from our favourite places or explore your own secluded destinations to fall in love with.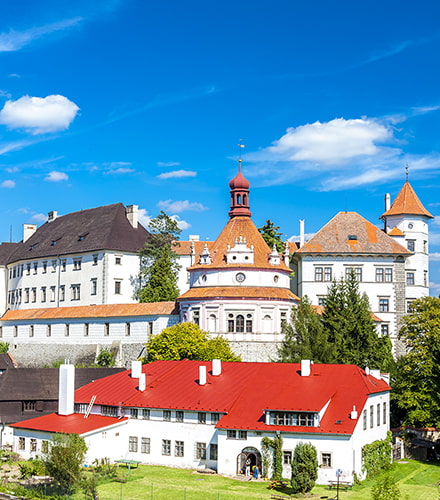 Jindřichův Hradec
Jindřichův Hradec State Castle and Château
The castle and château in Jindřichův Hradec is undoubtedly one of the largest monument complexes in the Czech Republic. In the third courtyard you will be welcomed by sublime arcades and a garden containing the Rondel, one of the most charming Renaissance buildings in the Czech Republic. Jindřichův Hradec Castle and Château offers three sightseeing routes divided by individual construction phase, and a visit to the observation point from the Black Tower. The castle and château premises often come to life with theatrical performances, concerts and other events, which make it an important cultural and social centre even today.
Jindřichův Hradec Museum
The Museum of the Jindřichův Hradec Region preserves over 50,000 items in its collection, which represents more than 100,000 collection items of extraordinary historical, artistic and documentary value.
Jindřichův Hradec local railways
For more than a century, two localities with a track gauge of only 760 mm, but with a respectable length of 79 km, have been an inseparable part of the Jindřichův Hradec region. Both lines, Jindřichův Hradec ⁠-⁠ Nová Bystřice and Jindřichův Hradec ⁠-⁠ Obrataň, still serve their original purpose, daily passenger and freight service. However, they are also an important technical landmark and one of the most visited tourist attractions in the region. A ride on a century⁠-⁠old historic steam train to the charming corners of Czech Canada is not only a unique trip into the past, but also an experience that simply cannot be missed.