Bon appétit!
Food is more than an obligation. It's a moment when you have a chance to slow down, take a break and enjoy a moment of peace during the day. It's a time with family when you feel each other's love and support. These are moments with friends, being able to laugh together. These are moments when time flows differently to the world around you. Visit one of our restaurants and bars and find time for yourself and the people you care so much about.
Are you just in the mood for something small? A wide range of drinks and snacks can also be found at the reception.

New Wave
Whether you just want a strong cup of coffee to get you started, to go out for a great lunch or enjoy a relaxed dinner, we're here for you. Come, sit in the comfortable chairs and take a moment for yourself. The pleasant staff will be happy to offer you the best that the region has to offer. Thanks to the varied interior, you can find a quiet corner for yourself and enjoy your time in comfort with a great meal and drink.
Lobby bar is temporarily closed. Soft drinks, alcoholic beverages and small snacks can be purchased at the reception.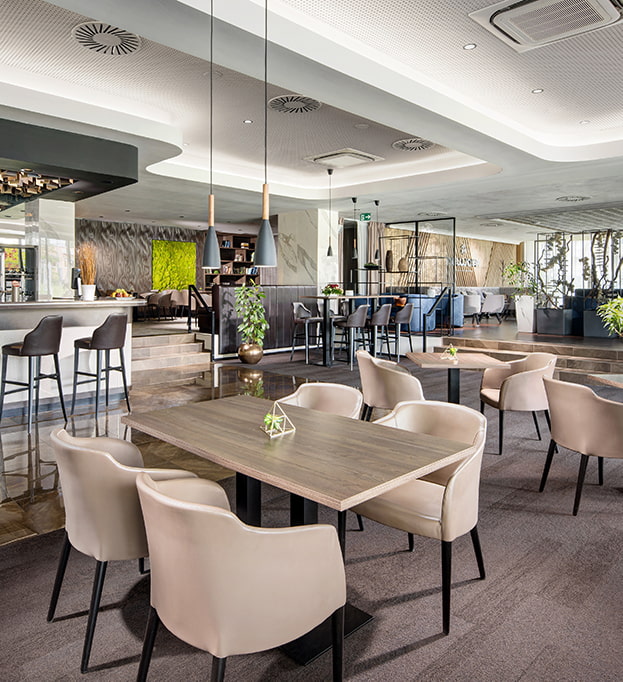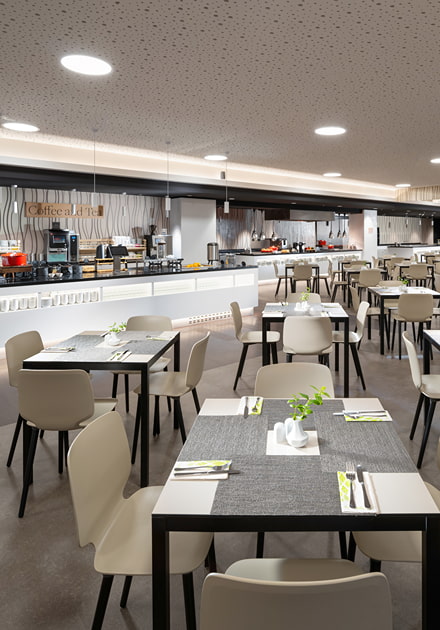 Veduta Restaurant
It wouldn't be a good morning without a great breakfast. Choose whatever suits your taste from the buffet⁠-⁠style breakfast. It may be the best scrambled eggs and bacon you've ever had, a warm croissant with butter and ham, or a cake with tea and milk. We all have different tastes, which is why we have something for everyone. Sit and relax and enjoy a truly good morning in České Budějovice.
Breakfast hours:
Monday to Friday from 7:00 to 10:00 am
Weekends from 7:00 to 10:30 am
IN LOCO
Closed events require a separate venue to ensure complete privacy. We offer just these spaces in our IN LOCO Restaurant. Together we'll plan company galas, larger celebrations or simple receptions. We'll schedule a date, serve refreshments, whether you prefer buffet⁠-⁠style service, or a menu with table service... Essentially everything to make sure you and your guests are satisfied. We recommend grilling on the terrace in good weather.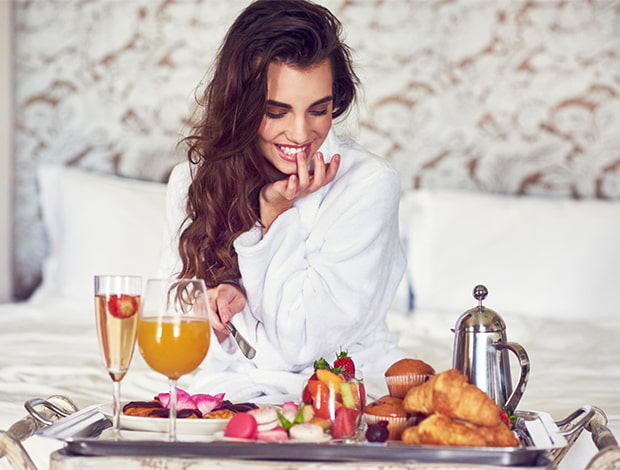 Room service
Have breakfast in bed. You don't have to give up the comfort of your room to eat. Every day from 07.00am to 10.00am.
Catering
Refreshments at events should not be underestimated. Leave it up to us, we'll be happy to help out in terms of preparation and service. We provide comprehensive catering services to ensure your guests do not leave hungry. Would you prefer a buffet, cocktail party or do you have something else in mind? Family celebrations, corporate events, weddings and parties will no longer cause you a single wrinkle.
Call us +420 389 102 111 or write to us at banqueting.cchcb@clarion⁠-⁠hotels.cz.